Posts for tag: teeth whitening
By HOBBLE CREEK DENTAL CARE
November 09, 2018
Discover the many ways cosmetic dentistry can bolster your oral health.
Do you feel like your smile doesn't improve your appearance but may, in fact, hamper it? Do you feel self-conscious about the way your smile looks because you have cosmetic flaws that stand out? If so, our Springville, UT, dentists, Dr. Stephen Pratt and Dr. Samuel Clyde, offer a wide range of cosmetic options, from simple tweaks to full-on makeovers, to help you achieve the smile you want quickly and easily.
Here are just some of the most popular cosmetic dentistry treatments that are guaranteed to give you a new and improved smile:
Dental Bonding
Who says that in order to improve your smile you have to go through invasive or time-consuming dental treatments? Dental bonding is a fast and simple way to hide minor gaps between teeth, as well as discolorations, chips, and cracks. During bonding, our Springville, UT, cosmetic dentist will apply a tooth-colored putty material over these small imperfections to cover them. Once the resin has been shaped, we will harden it into place with a dental laser. Bonding won't be able to handle more serious flaws, but smaller issues can be tackled with this non-invasive dental procedure.
Teeth Whitening
This is by far the most popular cosmetic treatment because it offers patients a fast, effective, and easy way to get a visibly whiter smile in just one hour. Professional in-office whitening uses a highly concentrated bleaching gel that is able to target and break up stubborn stain molecules within the enamel and dentin layers to instantly brighten your smile. If you have yellow teeth due to age or from consuming certain foods or drinks, then teeth whitening might be what you need to get your smile back on track!
Dental Veneers
Do you find yourself admiring the smiles of some of your favorite television and movie stars? If so, chances are good that some of them have those perfect smiles thanks to dental veneers. These very thin tooth-colored shells are made from porcelain, which mimics the look of real tooth enamel. These shells are custom-made to cover the front surface of your tooth to hide imperfections while also improving the overall shape and alignment of your smile.
Call Today!
Are you ready to find out which cosmetic dentistry treatment will give you the results you crave? If so, call Hobble Creek Dental Care in Springville today to schedule your consultation. Let us give you a smile to feel proud of! (801) 489-4541
By Hobble Creek Dental Care
August 01, 2014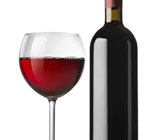 Have you heard the news about red wine? Every so often, the fruit of the vine is touted for some potential health benefit. Several studies over the past few years have suggested that it could help prevent heart disease and even certain types of cancer — only to have their conclusions called into question by new research. Just recently, newspapers trumpeted a new study from the Journal of Agriculture and Food Chemistry suggesting that certain chemicals in the vino might one day be used to help prevent cavities!
So is red wine good for your health, or isn't it?
The jury's still out. But there's one thing we do know: Regardless of whether it has any affect on cavities, red wine is one of the major culprits in tooth staining.
Of course, it's not the only offender: Coffee and tea, tobacco in any form, certain foods and some types of medications can all cause extrinsic stains on teeth — that is, stains that affect the exterior surface of the tooth. In addition, intrinsic stain — those that arise from the interior of the tooth — may be caused by root canal problems, or by certain dental filling materials.
If you have stained teeth — whether from red wine or another cause — can you do anything to make them whiter?
Oftentimes, the answer is yes — but finding the best way to do so can be challenging. You can begin by identifying habits and dietary factors that could cause staining. Then, reduce or eliminate the stain-causing factors, and enhance the beneficial ones. For example: stop smoking, modify your diet, practice regular, effective oral hygiene… and come in to the dental office twice a year for a professional cleaning and check-up. In addition, check whether any of your medications could cause staining or reduced saliva flow — a major contributor to the problem.
If making these changes isn't enough to control teeth staining, the good news is that a number of treatments are available that can help bring your teeth back to a pearly shine — or even give you the "Hollywood white" smile you've always wished for. Depending on the cause of your teeth staining, and your desired level of brightening, these treatments can range from professional bleaching to porcelain veneers.
If your smile needs a little help to look its brightest, contact us or schedule an appointment to find out what we can do. For more information, see the Dear Doctor magazine articles "Tooth Staining" and "Important Teeth Whitening Questions Answered."