Posts for: March, 2019
By Hobble Creek Dental Care
March 10, 2019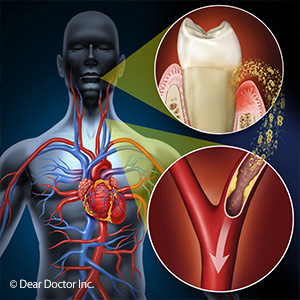 Periodontal (gum) disease can weaken gum attachment and cause bone deterioration that eventually leads to tooth loss. But its detrimental effects can also extend beyond the mouth and worsen other health problems like heart disease or diabetes.
While the relationship between gum disease and other health conditions isn't fully understood, there does seem to be a common denominator: chronic inflammation. Inflammation is a natural defense mechanism the body uses to isolate damaged or diseased tissues from healthier ones. But if the infection and inflammation become locked in constant battle, often the case with gum disease, then the now chronic inflammation can actually damage tissue.
Inflammation is also a key factor in conditions like heart disease and diabetes, as well as rheumatoid arthritis or osteoporosis. Inflammation contributes to plaque buildup in blood vessels that impedes circulation and endangers the heart. Diabetes-related inflammation can contribute to slower wound healing and blindness.
Advanced gum disease can stimulate the body's overall inflammatory response. Furthermore, the breakdown of gum tissues makes it easier for bacteria and other toxins from the mouth to enter the bloodstream and spread throughout the body to trigger further inflammation. These reactions could make it more difficult to control any inflammatory condition like diabetes or heart disease, or increase your risk for developing one.
To minimize this outcome, you should see a dentist as soon as possible if you notice reddened, swollen or bleeding gums. The sooner you begin treatment, the less impact it may have on your overall health. And because gum disease can be hard to notice in its early stages, be sure you visit the dentist regularly for cleanings and checkups.
The most important thing you can do, though, is to try to prevent gum disease from occurring in the first place. You can do this by brushing twice and flossing once every day to keep dental plaque, the main trigger for gum disease, from accumulating on tooth surfaces.
Guarding against gum disease will certainly help you maintain healthy teeth and gums. But it could also help protect you from—or lessen the severity of—other serious health conditions.
If you would like more information on preventing and treating gum disease, please contact us or schedule an appointment for a consultation. You can also learn more about this topic by reading the Dear Doctor magazine article "Good Oral Health Leads to Better Health Overall."
By HOBBLE CREEK DENTAL CARE
March 05, 2019
How we can help simplify your family's oral health routine!
For most families, the days are jam-packed with everything from school, work, and after-school activities, to running errands and making
dinner. Then, on top of your already busy schedule, you still need to make sure that your entire family is getting the proper dental care they need. Read below to discover how turning to our Springville, UT, family dentists, Dr. Stephen Pratt and Dr. Samuel Clyde, can .
Get All of Your Dental Needs Met
We know your family has a busy schedule and our goal as your dentist in Springville, UT, is to provide your entire family with the specific and individualized dentistry they require. After all, children and teens need different care than adults, and we have received the specialized training to be able to cater to the ever-changing smile needs of our patients—no matter what their age may be!
Everyone Receives Care
Are you currently driving your child to a pediatric dentist while you run off to a separate office for your own cleaning? If so, we know this is a major hassle. Of course, you also want a dentist who will be able to give your children the exact care they deserve to maintain a healthy smile; fortunately, when you turn to a family dentist, every member of your family can receive expert dental care. No need to take your family to multiple dentists—just turn to a family dentist and make getting routine cleanings and checkups simpler!
Dentistry You Can Trust
We understand that children may not be thrilled by the prospect of a regular checkup, but the sooner you make these routine dental appointments part of your child's schedule, the better. Plus, when children come into our office, our goal is to always make sure that they are as comfortable as possible during their time here. We want everyone to feel like part of our family when they walk through our doors!
If you are interested in finding out more about the dental services that we offer or if you want to schedule a cleaning, don't hesitate to call Hobble Creek Dental Care in Springville, UT, today at (801) 489-4541! We are here to provide your entire family with the care that they deserve